The pioneering place-based change programme, initiated and funded by the Steve Morgan Foundation is set to expand, with Mayor Steve Rotheram granting an additional £5.25m to tackle inequalities faced by families in the Liverpool City Region.
The expansion of the Cradle to Career programme was announced at a prestigious event at the House of Lords on Tuesday, September 19, where Steve Morgan addressed the guests and highlighted the impact the programme has had to date. This was followed by two events in the Liverpool City Region attended by the Mayor, Steve Rotheram on Thursday, September 28.
Cradle to Career was launched by the Steve Morgan Foundation in North Birkenhead in 2021 in partnership with Wirral Council and working alongside SHINE, an education charity and grant giver, and lead delivery partner Right to Succeed, a charity specialising in place-based change approaches. Funding provided by the Foundation to date totals £4.9 million, which includes a grant of £2.5 million to support the regional expansion.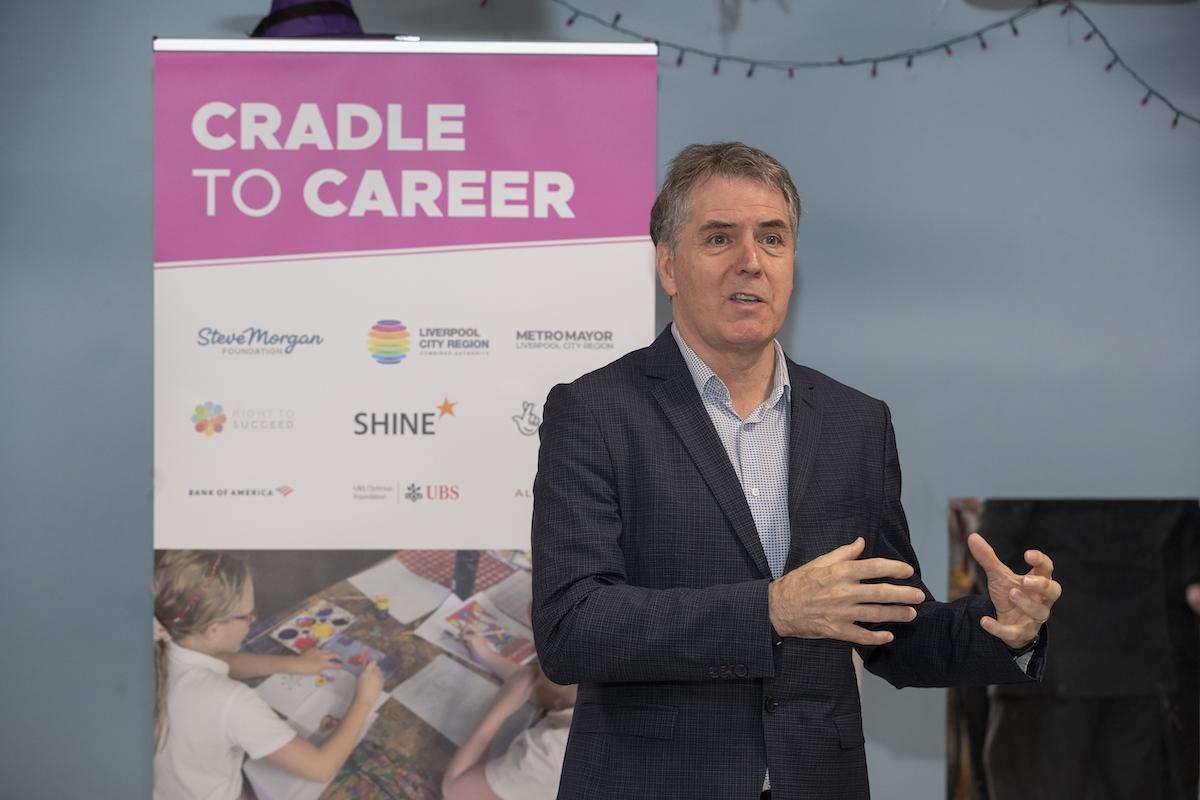 Delivered by Right to Succeed, Cradle to Career puts the people of the Liverpool City Region at the heart of education, services and decision-making. Following discovery phases in Halton and Knowsley, bespoke programmes are being developed for communities in Halton Lea and Northwood. These will focus on supporting vulnerable learners; reducing the number of post-16 school leavers not in education, employment or training; developing robust facilities and activities for all; and creating a family support hub to support social, emotional and mental wellbeing in the community.
Further discovery phases are currently underway in Sefton and St Helens, with a vision to continue expansion across all six boroughs of the Liverpool City Region.
Commenting on the expansion of Cradle to Career, Steve Morgan CBE, said:
"We are incredibly excited to be taking this powerful partnership across the breadth of the Liverpool City Region.
"Good philanthropy and great partnerships are about bringing everyone together to deliver long-lasting and effective change, and Cradle to Career is a true exemplar of this; empowering communities, philanthropy and the public sector to work towards a shared vision to improve the lives of young people and their families.
"The Steve Morgan Foundation is involved in hundreds of initiatives not only in Merseyside but across the country but the impact of Cradle to Career is one of our most successful interventions and its achievements cannot be underestimated.
"In just two years, through Cradle to Career, the reading age for more than 1,600 children has improved exponentially; the number of young people at risk of being taken into care has significantly reduced, and Ofsted and the CQC are using the Cradle to Career programme as an example of best practice for family support.
"It is my hope that other cities and other regions in the UK will consider following suit by doing things differently and putting communities in control of their destinies."
Steve Rotheram, Mayor of the Liverpool City Region, said:
"It is a gross injustice that children's whole lives are mapped out before they ever leave the maternity unit; a postcode lottery dictating their bank balance, the food they can afford, the diseases they're likely to develop, the quality of the air they will breathe and how long they will live.
"Addressing that imbalance is central to my politics. Cradle to Career is a radical, bespoke approach that works with the communities to identify local issues – and empowers them to come up with the solutions.
"Its results in North Birkenhead have been so impressive that we are investing more than £5m to roll it out across the rest of the region. Too many kids in our region have been held back, not by a lack of talent but a lack of opportunity – but I'm working to put that right."
CEO of Right to Succeed, Graeme Duncan added:
"We are delighted that the Combined Authority has decided to fund the roll out of collective impact programmes across the Liverpool City Region, helping to realise our vision that every child can thrive from Cradle to Career.
"Our experience working in North Birkenhead on the Cradle to Career programme over the last three years has shown that by putting the decision-making power in the hands of the community and bringing people together around shared aims, you can accelerate the pace of change for children and young people.
"By rolling this out across the region, the Combined Authority is taking the lead, investing in a new approach that will see sustained change and improved outcomes for more children and young people."
Visit the website for Cradle to Career North Birkenhead.